VCC BOARD
This 12-person team primarily includes individuals that own and/or are marketing/sales staff from cheesemaking businesses and/or have specialty food/cheese retail or distribution experience. It oversees VCC and ensures that our programs and initiatives align with cheesemaking business' and industry needs and wants.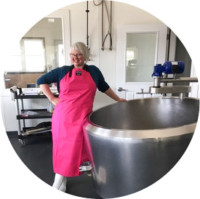 COMMITTEES
Program direction is very much a team effort! We use committees (finance, marketing, education, governance, regulatory) to help guide program and certain operational choices.  These committees are made up of staff and member/community volunteers.  If you are interested in joining or learning more about one of our team's committees – please reach out to info@vtcheese.com for more information.
MARTY MUNDY, EXECUTIVE DIRECTOR
Marty holds over 20 years of experience in marketing, sales, and business development; as well as project management; nonprofit board; finance; and cheese making and retail sales experience/business ownership.  As a founder of two small businesses, she understands the unique needs and challenges particular to small business ownership; as a marketing strategy expert, she has experience developing the communications tools and processes necessary for international B2B sales/marketing strategic planning.  Since joining VCC, Marty has been responsible for organizational leadership, financial management, program and activity management, community relations and communication, development efforts, and leading the way to achieve our 2021-2025 strategic plan.  Under her leadership, VCC initiated multiple new consumer-facing promotional programs, launched a new internationally-attended artisan cheese education conference, and is currently developing a Business Miniversity program to support cheese business owners and staff, as well as other farmers and food producers.  Passionate about supporting the sustainability of farming and food supply systems, Marty has worked in the cheese industry since 2017 and has held this role since 2020.
Our strategic work is currently focused on expanding VCC programs to increase the work we do to help our members succeed.  While some of this includes providing educational resources or acting a marketing pseudo-partner to help cheesemaking businesses and promote the Vermont Cheese Brand, other work focuses on includes helping businesses navigate regulatory or operational challenges, and at our core – we also want to help our community connect with one other for support and mutual benefit.  You can read our full 2021-2025 Strategic Plan and more about our growth goals here.